Top 10 SIEM Use-Cases
A managed SIEM lets businesses get on with their core activities while not fretting that hackers will undermine their efforts or suffer from data loss. Even organizations with the budget to build an in-house cybersecurity operations center by hiring the right skilled cybersecurity experts still struggle to find and retain the skilled staff and turn to managed SIEM providers.
Although SIEM tools are primarily used for security purposes, organizations should be aware of several other SIEM use cases, such as automated compliance management, operational performance monitoring, or log management.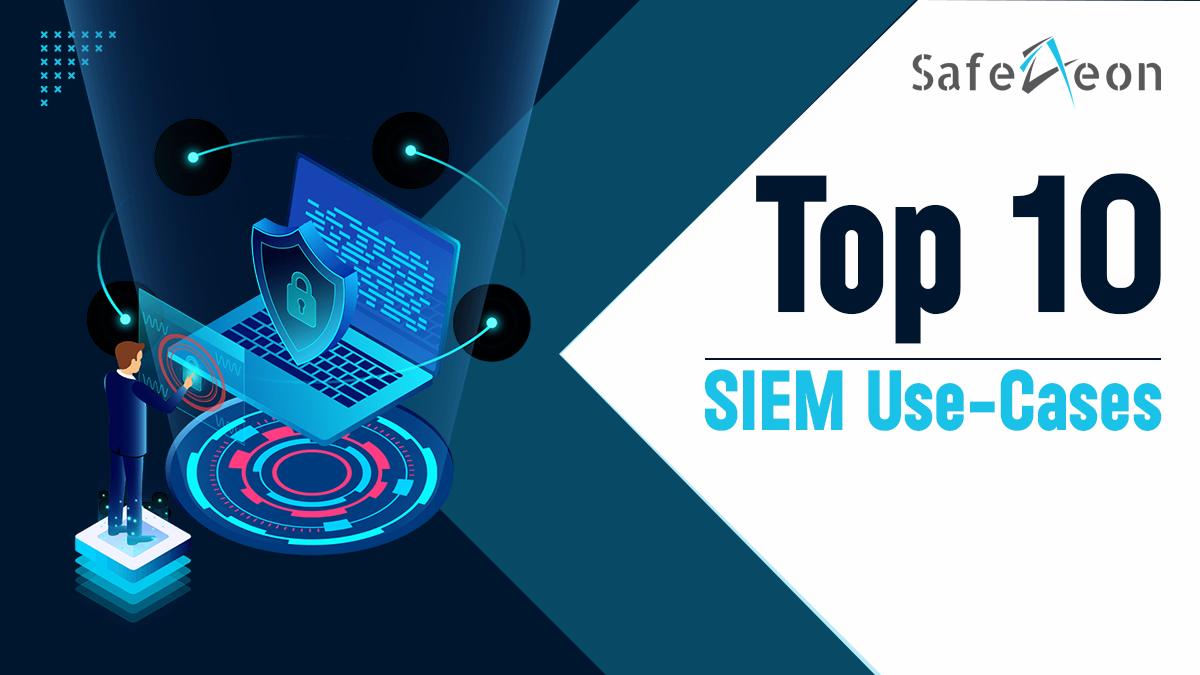 Detecting compromised user credentials
Ensure a use case and workflow is in place to detect any attempts to compromise user credentials through Pass the Hash, Brute Force, Golden Ticket, or other malicious methods. In case of a successful compromise, it is crucial to detect and identify the users and entities affected to investigate the impact of the compromise and prevent further damage.
Tracking system changes
SIEM should have a set of appropriate use-cases for flagging critical system events, such as unauthorized modifications to the configurations or deletion of audit trails. The SOC should escalate detected changes on high priority to stop the unauthorized change damage and minimize impact, as tampering with audit logs is always a red flag.
Detecting unusual behavior on privileged
Privileged users, such as system or database administrators, have extended access rights, making them an attractive target for hackers. With a SIEM, analysts can keep a close eye on any actions these privileged users perform and look for unusual behavior that might indicate a threat or a compromise.
Secure cloud-based applications
Cloud computing provides many advantages to an enterprise. Still, it also comes with several challenges, which include requirements to meet cloud security compliance requirements, implementing appropriate RBAC, improving user monitoring, or protecting against potential malware infections and data breaches. A SIEM should support the ingestion of logs from cloud-based applications configured as log sources. A few examples of cloud applications include Salesforce, Office365, Box, DropBox, Google Workspace, and AWS.
Phishing Detection
Phishing is an attempt by bad actors to extract sensitive information used in fraud and impersonation. This includes attempts to acquire personal information, such as social security numbers, bank account numbers, or PIN codes and passwords. It is critical to ensure that these data types are protected across the entire organization. Phishing, especially spear phishing, is often used to gain initial access to a network. When receiving a phishing email, analysts can use SIEM to track who received them, clicked on any links in them, or replied to them, enabling them to take immediate action to minimize damage.
Monitoring loads and uptimes
A SIEM system should have appropriate correlation rules and alerts to monitor system load, uptime, and response time on in-scope servers and services. 24x7 monitoring of critical infrastructure enables catching faults and overloads early, ensuring that downtimes and the cost associated with them are prevented.
Log Management
Databases, applications, firewalls, security solution stack, users, and servers generate high amounts of Syslog data. A SIEM tool should normalize and centralize the collection of log data. This allows integrated analysis and security correlation from a single pane of glass, thus, allowing the IT security monitoring team to search through the data for specific keywords or values.
SIEM for GDPR, HIPAA, or PCI compliance
Organizations are subjected to many compliance regulations, such as GDPR, HIPAA, or PCI. With a SIEM system, you can document when and by whom data was accessed, read, or copied, fulfilling compliance requirements and preventing violations.
Threat Hunting
The process of actively searching for cyber risks in an organization or network is known as threat hunting. A threat hunt can be conducted in response to a security issue or to uncover new and unknown attacks or breaches. Threat hunting requires access to security data from all places across the company, which a SIEM can provide.
SIEM for automation
SIEM automates threat detection activities and provides the foundation for automated incident response. Forwarding security alerts and incidents to SafeAeon enables accelerated incident response by automating manual tasks, resulting in lower security costs and increased SOC productivity. Get in touch with us for a discovery session now.