SafeAeon Patch Management-as-a-Service?
Patch Management-as-a-Service is a cloud-based solution that automates patching and updating Workstations, Laptops, Windows servers, IoT devices & Mobile phones. It allows you to centrally manage and apply patches across infrastructure, reducing the need for manual intervention. It can help minimize downtime and improve security. SafeAeon Patch Management automates routine tasks such as patching and updating drivers to ensure that systems are always running at optimal performance. Overall, patch management is the practice of monitoring and applying software updates to computers or servers to maintain security and reliability.
SafeAeon PM-as-a-Service Process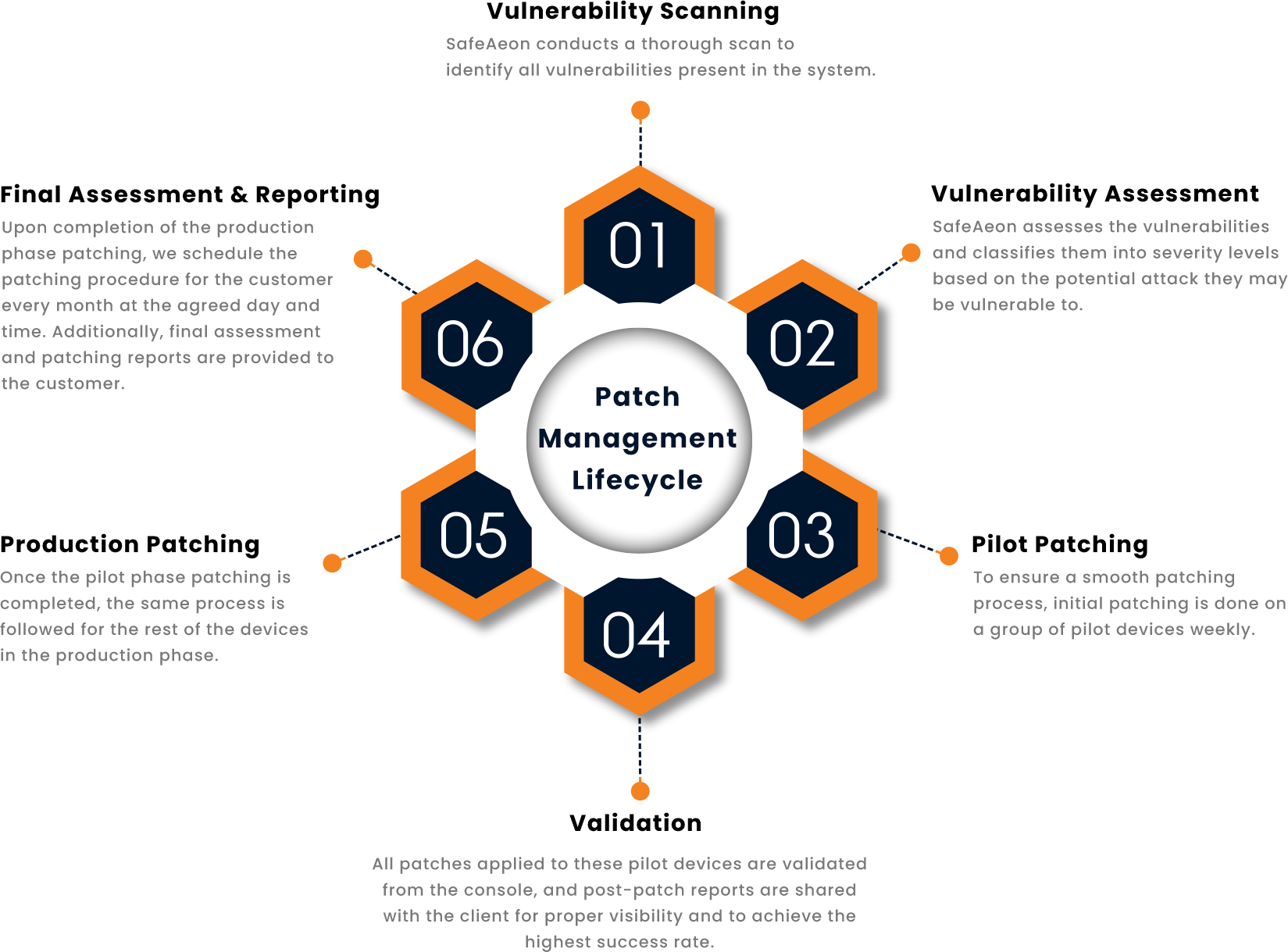 Why SafeAeon Patch Management-as-a-Service?
Patch Management is important for each organization as it helps to protect against security vulnerabilities and potential threats by keeping software and systems updated and patched.
Improved security
By regularly applying patches and updates, a Patch Management Service helps to address known vulnerabilities and potential threats, which can help to protect an organization's network and data from cyber-attacks.
Increased productivity
With a Patch Management Service, IT staff can focus on other important tasks rather than having to spend time manually patching systems and applications.
Reduced downtime
By proactively addressing issues and vulnerabilities, a Patch Management Service can help to minimize the risk of system downtime and related disruptions.
Compliance
many regulations, like HIPAA, SOC2, PCI-DSS, and others, require regular patches and updates to maintain compliance. A patch management service can help organizations to meet these regulatory requirements.
Cost Savings
With a Patch Management Service, organizations can avoid costly and time-consuming manual patching processes, which can help to reduce overall IT costs.
What our MSP, MSSP Partners and End Clients say about us?
SafeAeon was the SOC we needed and had been searching for to partner with us. We had demos and trials of several other products but the cost to benefit ratio was just too high. SafeAeon allowed us a four month trial at a very low cost which made the sign up easier. The onboarding period and the tuning process was simple and all the SOC personnel are friendly and professional. We use them for our SIEM and EDR. Would highly recommend.

❮
❯
Ready to take control of your Security?
We are here to help
Reach out to schedule a demo with our team and learn how SafeAeon Patch Management-as-a-Service can benefit your organization
Frequently Asked Questions About Patch Management