SafeAeon MDR-as-a-Service
SafeAeon MDR-as-a-Service is an outsourced cybersecurity solution that enables organizations to efficiently detect and respond to cyber threats while limiting the potential impact. This service eliminates the need for additional staff to manage incident response within the network.
Turnkey MDR security services provide organizations with all the necessary tools and experts to deploy, configure, and monitor them. The goal of 24x7 Turnkey MDR Security Services is to expedite the process of detecting and responding to cyber threats while simultaneously reducing the number of vulnerabilities in the network through the implementation of security controls and best practices.
How does SafeAeon MDR-as-a-Service Work?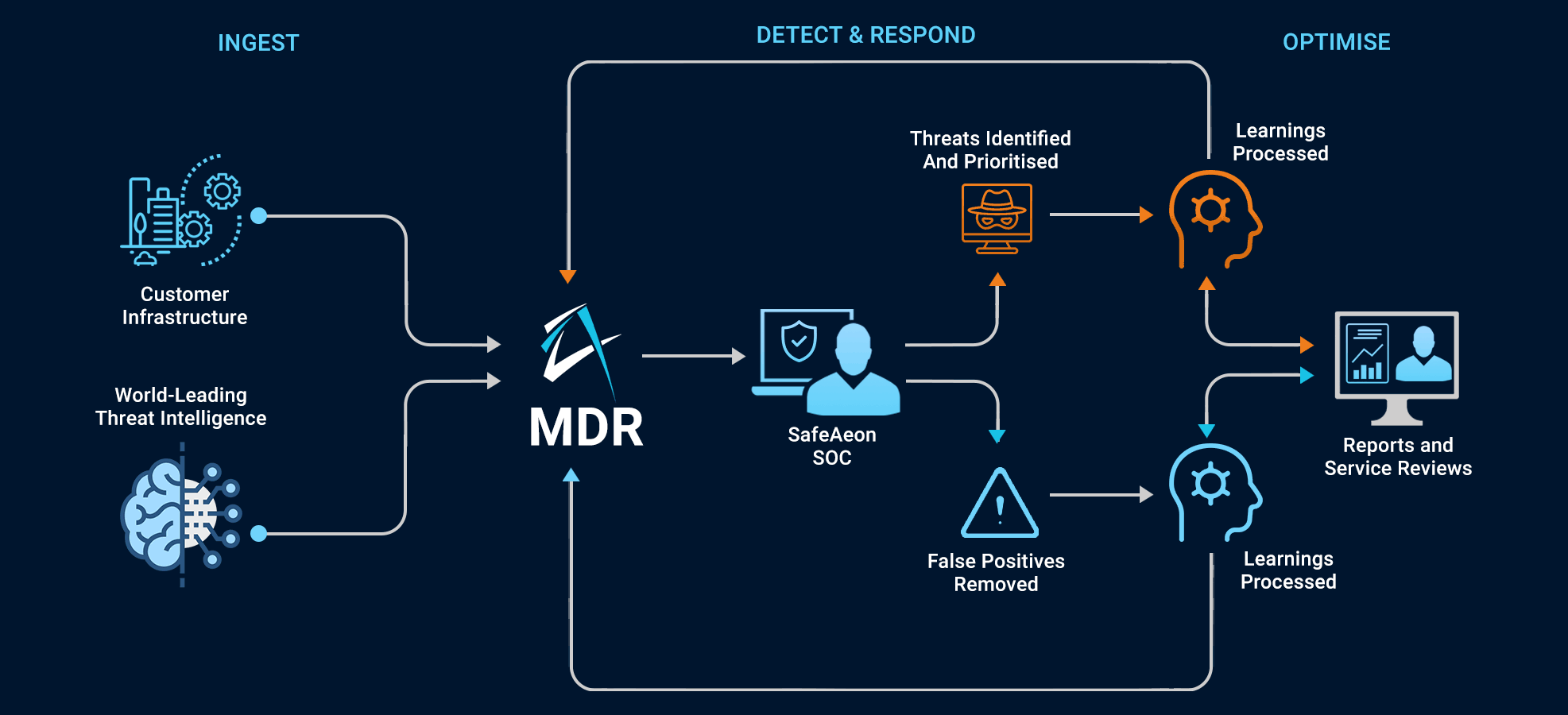 Key Challenges without MDR!
"As the volume, variety, and sophistication of cyber threats increase exponentially, organizations facing below challenges!"
SafeAeon MDR-as-a-Service – Benefits

Trusted MDR Partner for 300+ customers across 10+ countries

Rapid Threat Detection & Mitigation

24x7 Eyes on Screen

Leverages Industry Leading EDR Solutions

Complementary Vulnerability Report

No Extra Charges for Onboarding

Month to Month Subscription

SOC 2 Type II & ISO-27k1 Certified Services

Compliant with GDPR & local Data Privacy Law
What our MSP, MSSP Partners and End Clients say about us?
SafeAeon was the SOC we needed and had been searching for to partner with us. We had demos and trials of several other products but the cost to benefit ratio was just too high. SafeAeon allowed us a four month trial at a very low cost which made the sign up easier. The onboarding period and the tuning process was simple and all the SOC personnel are friendly and professional. We use them for our SIEM and EDR. Would highly recommend.

❮
❯
Ready to take control of your Security?
We are here to help
Reach out to schedule a demo with our team and learn how SafeAeon MDR-as-a-Service can benefit your organization
Frequently Asked Questions About MDR-as-a-Service