SafeAeon Dark Web Monitoring
SafeAeon SOC is dedicated to keeping your corporate domains and employee data safe by continuously monitoring them against a database of breached data lakes on the dark web. In the event of a breach, our SOC team immediately alerts you through a triaged escalation process, led by a human analyst, and works with your team to take corrective actions. At SafeAeon, our mission is to make the web a safer place by disrupting darknet underground activities. Through proactively protecting our customers against stolen corporate credentials or compromised machines, we strive to prevent bad actors from profiting off of stolen corporate data.
SafeAeon Dark Web Monitoring Process

Most Trusted Dark Web Monitoring Service
Millions of compromised corporate data are added to Dark Web daily. Threat actors can potentially use these compromised records to compromise company infrastructure to harm the company's reputation. Assist your security & IT team in taking timely actions to contain compromised accounts and infected machines.
320+
Billion
Recaptured Assets
28+
Billion
Total Passwords
35+
Billion
Email Addresses
225+
Billion
Unique Data Types
SafeAeon Dark Web Service Components
Dark Web Monitoring-as-a-Service helps you stay ahead of cybercriminals by providing information about potential threats to your company and employees on the Dark Web. By taking timely, proactive actions on compromised accounts, assets, and employee PII, you can protect your company's infrastructure and reputation. With this service, you'll have a clear understanding of potential threats, allowing you to act quickly to mitigate them.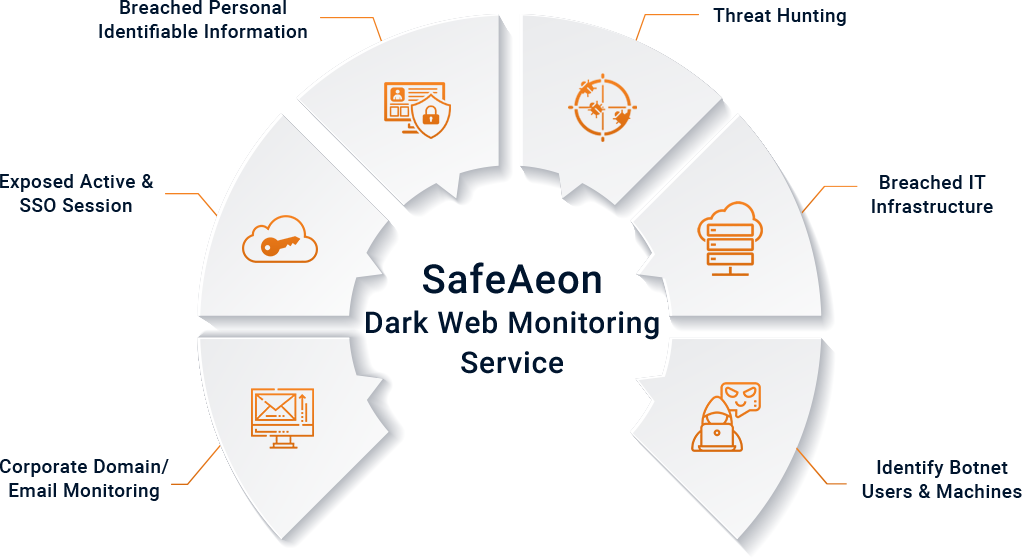 What our MSP, MSSP Partners and End Clients say about us?
SafeAeon was the SOC we needed and had been searching for to partner with us. We had demos and trials of several other products but the cost to benefit ratio was just too high. SafeAeon allowed us a four month trial at a very low cost which made the sign up easier. The onboarding period and the tuning process was simple and all the SOC personnel are friendly and professional. We use them for our SIEM and EDR. Would highly recommend.

❮
❯
Dark Web Monitoring FAQ's