How COVID-19 is Affecting Cybersecurity?
Introduction
As the Coronavirus has adversely affected health, political, economic, and social domains of the world, there is another threat that has not been so popular in the news: the risk of cyberattacks. With the increase of this pandemic, internet dependency has also increased to a great extent. People tend to make more mistakes online than they would not have made otherwise.
How the COVID-19 pandemic has affected cybersecurity?
Work From Home
Businesses and public-sector organizations are increasingly emphasizing "work from home" policies and becoming confined to video calls, social media posts, and other similar sources.
Employees tend to use their laptops or desktops, which are significantly less secure than the organizational ones, making them more vulnerable to cyber-attacks.
Now it is very important than ever to be proactive and ensure attachments or links are only opened from trustworthy sources.
Scams, Fraud, and Misinformation
As COVID-19 or Coronavirus spreads across the world, people are eventually searching for the latest updates and information on how they might get affected, and what they can do to protect themselves. And as expected , cyber-criminals are quick to take advantage of these concerns for their gain
Phishing and social engineering scams
As reported by Sophos, an email impersonated an official email correspondent from the WHO. It contained a link to a fancy-looking document on preventing the spread of the Coronavirus and then redirected victims to a malicious domain which attempted to steal the user's credentials.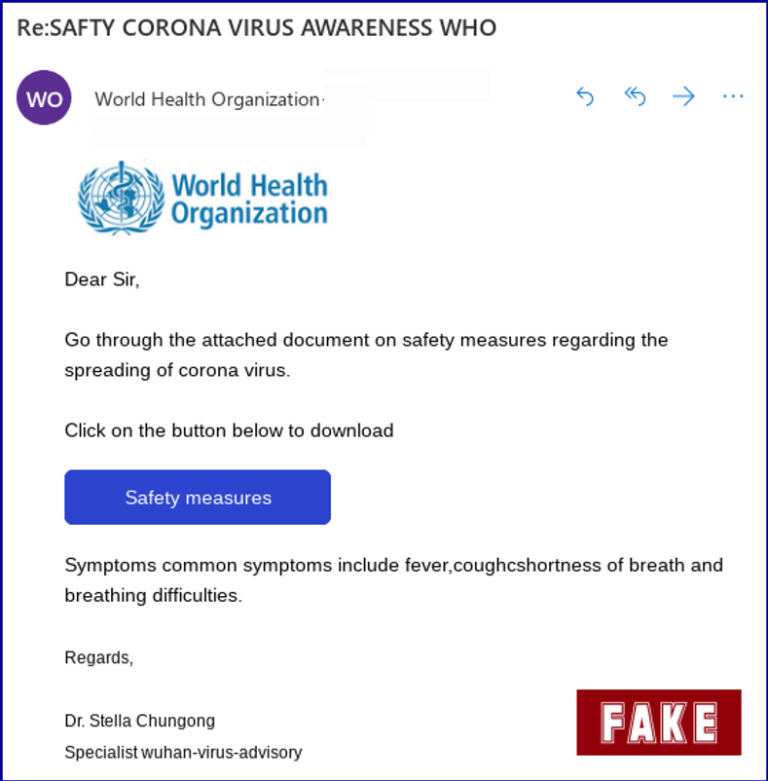 These campaigns often target areas with higher numbers of COVID-19 infections. In late January 2020, a phishing attack hit Japan with emails claiming to be from disability welfare service providers and public health centers. When clicked on, these documents attempted to download and install Emotet ( an information-stealing malware).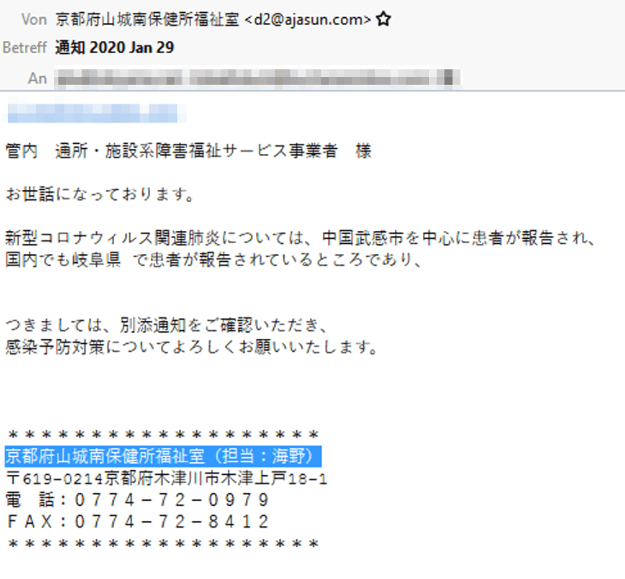 Similarly, in Italy, which has the highest number of confirmed infections of COVID-19 outside of China, were targeted by a phishing campaign in this month itself who impersonated WHO officials and attempted to inject in the Trickbot trojan.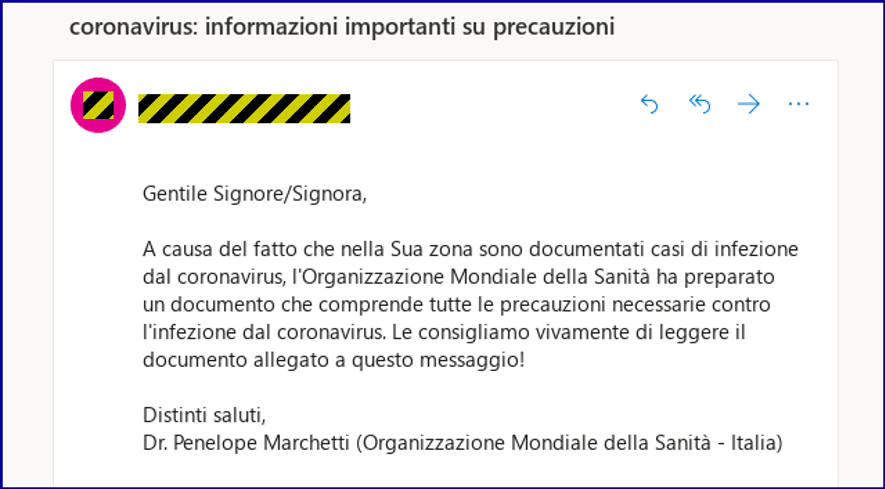 COVID-19 fraudulent and counterfeit good
The virus outbreak has resulted in a shortage of healthcare equipment and supplies like face masks and hand sanitizer. The healthcare products have been out of stock at many major retailers, and prices on e-commerce websites have almost doubled in the past few weeks

Hundreds of potentially misleading websites have popped up that claim to offer heavily discounted face masks. Even if the products are authentic, there is no guarantee that the products also exist or not!
How to Stay safe and Combat against Coronavirus CyberAttacks?
Step up your cyber hygiene standards
Keep a long, complex router password for your home wifi and check that your system firewall is active.
Ensure you're not reusing passwords, and use a reliable VPN for internet access if possible
Currently, there is no remedy or cure for the Coronavirus, and even if there was, it surely would not be given to you via an email.
Be careful about your verification
Be more careful than usual when installing software and giving out any personal information.
Don't click on links from the email.
When signing up for new services, verify the source of every URL.
Digital viruses spread just like physical ones; your potential mistakes online could very well spread to others in your organization.
Beware of lookalike domains, spelling errors in emails or websites, and unfamiliar email senders.
Follow only official updates
If you feel that the advice you're being given sounds bizarre and out of context, just search the Internet to see whether others have similar advice and look for a trusted site that can help verify the authenticity of the information.
Also, be very aware of any website that offers "once-in-a-lifetime" deals no matter how authentic-looking it is.
Do not purchase medical equipment from unofficial third-party vendors (particularly on the dark web!).
Are you also worried about the security of your organization? Contact SafeAeon today to learn how SafeAeon SOC-as-a-Service can secure your business.